o, last week was like a whirlwind. We had a bbq last Sunday and then labor day was spent at the beach with my mom and my mil.
Not the best beach weather, but fun just the same. I love this girl in the coral suit!
The kids jumped in holes.
And had a great time.
Can't believe our beach days are pretty much over.
Both boys started fall baseball. We usually don't do fall sports, but why not?
It was the little guy's first time playing- he loved it.
Now, if we could just get him to stop running with the bat?
Big sister played a role in her children's church class as a nurse and let this guy dress the part, a male nurse just like his Abuelo. Sorry Dad that we made so much fun of you when I was a kid!
And I entered a mug swap at Cuppa Kim. I scored this beautiful mug, salted caramel hot cocoa, which looks divine and some tea I plan on trying from Christy!
Thanks so much Christy!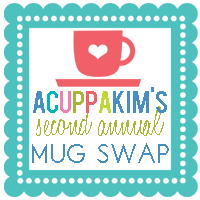 On the home front we are back to school and back into the swing of things.
Missed our school posts?
They are here and here.
Special Congratulations to this awesome lady! Welcome Baby Caleb!
And don't forget about this yummy giveaway.
So, what has been going on in your neck of the woods?
Link up your latest post and use the button on my sidebar- I will be checking!
Happy Monday!