So, sorry I missed last week's today is Monday.
We were in
Davis Park
.
We have been at the beach a lot.
And I made some more cookies!
This time, gerber daisy flowers for a close friend's bridal shower.
Making the cookies was fun, but a night out with friends at the bridal shower was great!
Being a mom, you sometimes forget it is nice to go out without the kids.
(but, sshhhh, don't tell the kids)
In case you missed it, we went to a
Yankees game
.
And a
beautiful blog friend
passed away to be with the Lord.
And, on another note, I participated in a thrifty gift exchange, where you get paired with a fellow blogger and you spend $10 on each other at a thrift store.
Cuz, who doesn't love thrifting?
I was paired with
Kelly
and she got me the coolest stuff.
A bracelet in purple- I love purple!
A beautiful flower pin,
an adorable card....
and this amazing purse with beautiful fabric. I was so excited to get this package and open it. The purse was the first thing I spotted.
Love it!
Thanks Kelly- you rock!
You can check out other thrifty exchanges here: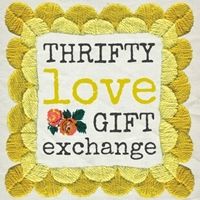 And what was your week like?
Link up your Monday post, whatever it is about, below.
Family friendly please. And don't forget the button on the sidebar, ya hear?
Happy Monday!
Hope your week is grand.
Linking up
here
and
here
.