How was your week?
Mine was good considering it seems like everyone is getting ready for the useless holiday. Have I mentioned that I love November 1st?

Well, aside from all that, I have been going to the gym for the classes every morning and I really enjoy it.
I am not the most coordinated gal, but I'll get there.
I am excited to start Christmas preparations, but there are a ton of things I need to get on top of before I even start thinking about Christmas.
We just have so much stuff in this house.
I really need to purge and just let it go.

One step at a time...
On to the follow:
rules:
1. You must follow TCM.
2. Link your blog with the linky.
3. Put the Friday follow button (it can be found down in my sidebar) somewhere in your post.
4. Visit as many blogs and follow as many as you can.
5. Family friendly only and HAVE FUN!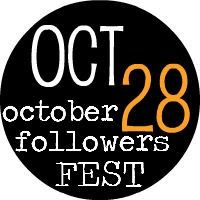 I joined this fall fest tonight- check it out by clicking the button.