Mandipidy!
That's right... Mandy from Mandipidy and her husband are due to have their first child, a baby girl, sometime in August!

I love Mandy and think she is going to be a wonderful mom, but felt bad we are so far in distance and thought we should throw her a "blog" shower.
I thought about what I would do if I had a shower for her at my own house.
I would definitely write it on my chalkboard.


And I, would of course, make her a baby banner.


A banner that I would hang up here for the shower and at the end take it down,


so Mandy could use it at her house.
But since Mandy is too far away, I will send her the banner and tell her:
Dear Mandy,
Congratulations!
Baby Abigail is so blessed to have you as a mother.
I know you are going to be an awesome parent.
Please show us pictures as soon as she makes her arrival.
Love,
The Chatty Mommy




Want to read more baby shower posts? Head over to Gina's blog.

If you want to write your own post and share something with her or give her some parenting advice, use the button below and make sure to stop by Hiya Luv to link up.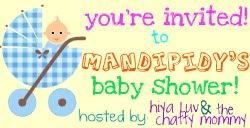 We are so excited for you Mandy!