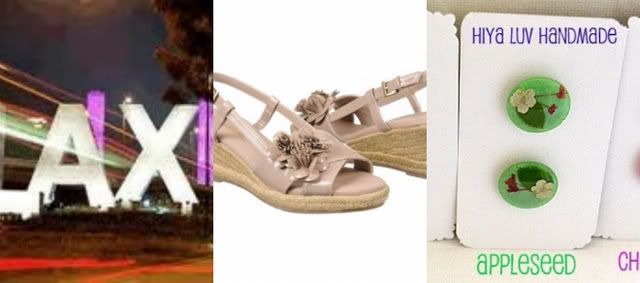 I am beginning to really love What I Love Wednesday!!!
I love sharing my favorite things and it gives me an excuse to just take pictures straight from google images!
1. I am flying to LAX for my brother's wedding very soon! Pray it doesn't rain for my little brother's big day. I am so excited for him and will have pictures up on my blog soon after the big event.

2. These are my shoes for my brother's wedding- I just love them. It took me so long to find them and they are not as dressy as I planned, but I figured why not? I really like them and will get a lot of use out of them. It just made sense to buy something I will use again instead of bling silver shoes that will hurt and I will forget I own. These taupe babies are made by Naturalizer and I picked them up at the Famous Footwear outlet.

3. Hiya Luv must of just put these adorable flower fabric button earrings in her shop, because I just found them!!! I love them and you get 3 different adorable pairs. I adore them. Are you interested in winning them? Or how about another beautiful, handmade creation from Hiya Luv? Well, I am having a giveaway and it ends tonight! Hurry and

enter

!

Enjoy your Wednesday!