A little about me...
My name is Stacey and I live in NE Wisconsin near Green Bay. I'm a stay at home mom of 3 boys and a baby girl ages 1-8, we have 2 dogs, 1 hamster, and since it rained last night I'm guessing about 5 frogs the boys brought inside that are hiding somewhere in my house. I also have an amazing husband who is (for some reason) crazy supportive of my vintage cookbook addiction.
How did you start collecting?
I think it started with my frustrations on how our eating habits have evolved over time. I look at us now with our lists of must have staples in our hands while grocery shopping and wonder how those lists have changed from milk, sugar, and eggs to instead Mac n cheese, hot dogs and frozen pizza. I became attracted to the simplicity of the past, simple recipes, simple ingredients, the time when you were out of bread you just made more (and were able to name every single ingredient in it too!). I also fell in love with the personal side of history that comes with them. The everydayness of their stories. I could relate to having to scrape meals to together during hard times and I could actually use information like "how DO you get gum out of carpet?" I feel like nowadays we think we're smarter and above people from the past. Yes we do have more information than they did, but for the most part, I feel sometimes all we're doing is re-inventing the wheel.
Please share a little about Vintage Cookbooks.
All of the different types of cookbooks can be a little overwhelming so I like to break them down into categories and some of the main ones to know are:
There's the late and great 1800's early 1900's antique homemaking/cooking/serving cookbooks. Typically the oldest type found (if collecting American cookbooks). You can find recipes for detergents, facial cream, medicine (of course I wouldn't use the opium they list as an ingredient but that's just me) and about a million other things you forget weren't invented by companies. I also love them for examples of "how one ought to behave in public" and "what is expected of the hostess when guests are to be served". They're like Emily Post on steroids and absolutely, positively fascinating! Prices vary with these but they're extremely popular and collectible.
There's what I like to call the "big mama-jammas" the "one stop shop" cookbooks. They can be counted on for having recipes chapters for breakfast, hor d'orvs, dinner party menus, recipes for bridge luncheons, Sunday suppers and everything in between. They're usually thick and heavy and generally were put out by big hitter companies like Good Housekeeping, Betty Crocker, or Culinary Arts Institute. They are also a pretty sure bet if collecting and consistently popular.
There's also the cookbooks that were put out by church and local groups to raise money. They're smaller in size but have some of the best tried and true recipes you can find! As far as collecting and value go they're a world all their own. I personally think that they should stay in the area they were written for so only occasionally do I put them up for sale but of course that's just MY opinion!
Then there's the advertising recipe booklets that were generally put out by top companies usually to promote a specific product. With company funded test kitchens on Park Ave. and spokeswomen that became the rock stars of their time. There's pure advertising genius with these babies because this is time where eating and food REALLY started to change. It was after WWII and companies had a surplus of "shelf-stable" processed food that they had been sending to the troops and decided to market to the general public. These promo type books were around earlier but they increased exponentially during the late 40's and into the 50's. It's good to do your research with these but cover art and rarity play big factors in value. For me that's where I stop, for the most part but others sometimes collect what they think WILL be popular and that's a good way to ensure long term success in your collection.
What are your favorites?
My personal favorites are a toss up between my 1899 White House Cookbook with so many "extras" tucked between it's pages I swear I can still find things I never saw before and my 1902 Women's Favorite Cookbook with the most amazing illustrations and one of the most complete sources for every recipe dealing with the home at that time. Then there are the handwritten books I have with notes about bills to pay and dates to remember and all of them are from ladies who lived in my area. They're just priceless to me and I would sob uncontrollably if I lost them.
What is your inspiration?
My inspiration comes from wanting my kids to have memories of how absolutely AMAZING home baked bread smells in the oven and how lucky they are in life. Also I know it sounds kind of corny but it's inspiring to me to think I'm helping save these recipes that all of these under-appreciated and over-worked women were so dearly proud of by making sure they get treated and recognized as the treasures they are.
(This, by the way, just touched my heart when she talked about her kids and wanting them to smell fresh bread- I am so there!)

Stacey is giving one Chatty Mommy reader a 1942 copy of The Greater American Cookbook by Ruth Berolzheimer!
Here's how to win:
-You must be a follower of this blog and visit
The Cookbook Addict
and tell me which is your favorite cookbook! -mandatory
-Choose The Cookbook Addict as a favorite on etsy! (3 extra entries)
-Blog About It! (5 extra entries)
Leave a separate comment for each entry.
A winner will be picked Thanksgiving morning at 10am EST via random.org!
This is giveaway is open to U.S. residents only.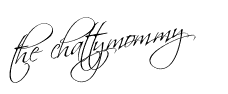 *I was not compensated in anyway for this giveaway.*