I am constantly talking about needing to lose weight.
I'll admit it- I am one of those all talk - no action.
I have a girlfriend who is great at very politely saying, "hey why do you keep talking about it and not doing anything about it?"
She's right.
Don't worry- I am praying about it.
But, the other day when stopping in a convenience store for a few things, I picked up my favorite (white chocolate) pop. They had mostly chocolate, which is so often the case, but I found a red one and put it down on the counter.
It wasn't till I got home and went to eat it, at night when everyone was sleeping of course, that I realized it was a stop sign and it said "STOP"!
I thought ok Lord- I hear ya.
And wouldn't it be great if I told you I threw it out or fed it to the dog (that I don't have) and before you get crazy- I know dogs shouldn't eat chocolate, but the point is that even with this message- I still ate it. But I did wait long enough to snap this picture for you.
Happy Friday!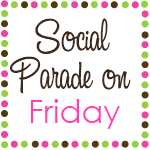 Follow me and let me know and I will follow back!