And the winner is:
True Random Number Generator
Min: 1
Max: 30
Result:
7
Melissa who said:
Follow your blog and love the Dusky Rose - Rosette Bib Necklace. omydarlingblog(at)gmail(dot)com
Congratulations Melissa!
And a special thanks to Mandy from
MandysYellowCorner
for allowing us to have this awesome giveaway!
Remember- Head over to
Mandy's store
for 15% off when you mention thechattymommy!
For a limited time only!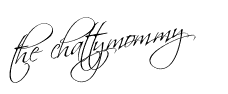 Come Back tonight for an all New Etsy August Giveaway!!!