**This contest is now closed. Congratulations Melissa!!!**
Hey- It's
Etsy
August!!!!
This month, I decided to check out some
etsy
stores.
Each week, I will interview one
etsy
shop owner and end with a giveaway!
There are some awesome prizes to be won, but also, the most beautiful handmade products, I have ever seen!
First up is Mandy from
MANDY'S YELLOW CORNER
!
"Every girl needs some pretties. . . and I like to make them."
You have to check out
Mandy's shop
, but I wanted to give you a preview of her beautiful "pretties":
This is the first thing I saw when checking out Mandy's store- I have to have one! The lemonade bib necklace! Love it!
Don't you just adore this
morgan
zipper clutch?
And her signature piece- the
MandyBand
- the name is perfect- I can't believe these are handmade!
And they come in all colors!
I am so interested how
etsy
works and what makes a gal wanna start up, so I asked Mandy some questions:
1. How long have you been selling on

etsy

?

I first started my shop in February, and it was honestly a flop! I
was experimenting with all sorts of ideas, and I hadn't really found
my niche yet. At the very end of May, the hubs and I moved across the
country and I learned how to crochet to keep me busy in the car.
Somehow, those little crocheted headbands evolved from my
experimenting, and I finally had a good product! I emptied out my


etsy

store and uploaded a few

MandyBands

, and I finally had my first
sale mid-June.

2. What made you start your

etsy

business?

Ever since I was a child, I have loved to make things out of yarn and fabric.
When I was 11, I made a silly little "catalog " of merchandise that I
could make and tried to get my friends and family to order from me
[I didn't charge anything, but I still had a hard time getting "customers"!].
This past Christmas, my mother in law mentioned the

etsy

website to
me, and I was intrigued. However, it wasn't until I started blogging
and saw that some lovely blogging ladies also had

etsy

shops that I
actually got on board with the

etsy

idea. It's seriously like living
out my childhood fantasy, and I love it!

3. What is something you would like everyone to know about you?
I LOVE Christmas! I count down the days every year like a little kid
and get all giddy when it's approaching. Part of that is that I love
giving presents! It's my favorite thing :]
4. What site do you visit most

often

on the

internet

?

When I open a new

internet

tab on my computer, it actually lists my
most visited sites as suggestions, so I just opened a tab to see :]
As I somewhat suspected, #1 was

etsy

, followed by

facebook

and
blogger.

5. What do you enjoy most in life?

I enjoy so many things! But my faith is the most important part of
my life. Jesus Christ has cleaned my heart, and I am so thankful!
God has also given me a wonderful hubs who is my best friend, and an
adorable little puppy who makes life oh so interesting! And I love
that I get to spend my days crafting. All in all, I could not be
happier :]

6. What is your favorite item in your

etsy

store?
I think the clutches are my favorite, but I still have yet to make one
for myself! When I do, I want the Lindy clutch [which I think is
currently sold, but I can make more!]
I also just got some lovely jewelry stamping supplies in the mail. . .
I suspect you'll see some of that in my shop soon! And I adore
hand-stamped jewelry, so let's go ahead and call it a favorite!

Mandy, I think your great and I love your answers .... and I think you make a great model for your store.
Now, for the giveaway!
One winner will win a $20 credit to shop at
MandysYellowCorner
.
But....
Everyone can have 15% off right now if you mention "
thechattymommy
" in the note to seller.
Here are the rules:
You must be a follower of The Chatty Mommy and you must visit
MandysYellowCorner
and tell me what you would order if you won!- mandatory
Extra Entries:
**Important- Please leave a separate comment for each entry. For exmaple, if you have 1 mandatory entry and then 4 extra entries, please leave 5 comments. This makes using random.org easier!**
Good Luck!
The contest will end on Sunday morning at 9 am EST and a winner will be picked by random.org!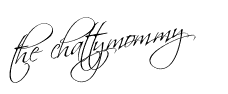 **I was not compensated in any way for this contest**