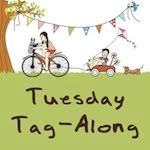 I am not a big dreamer and I am not into analyzing them, but the one I had the other morning was too funny not to share.
First, you have to know who
Mckmama
is - for the 2 people who might not- she is a huge blogger with a gigantic following. In fact, she is so big that people have started their own hate blogs to make fun of her.
They spend all their time making fun of her because they obviously must be jealous.
My husband calls this "drinking Haterade!"
Well, I am not a stalker, but I am inspired to keep blogging when I see how big her blog is and I enjoy reading her from time to time.
Should I tell you now about the time she visited my blog and I took a pic of her on my blog frog? No, maybe now is not the time. That was a great day. Hmmmm. But I digress...
The other morning I got up at 5 to get the husband off to work and when he left, I jumped on the blog scene.
I haven't read Mckmama in awhile and thought I might check her out. She had an awesome post about the Lord and his leading in their house purchase.
Well, after checking email I decided to get some more zzzz's, and went back to bed.
I dreamt that Mckmama asked me to babysit her kids. I was honored. I went over her house and basically let her kids do whatever they wanted. They were nice kids and I was just so in awe of being in her house that I just kept walking around and touching all of her stuff and couldn't concentrate on watching the kiddos.
I kept thinking when she got home, I would ask her for a pic of her and I together. Then I would put it on my blog. This was a dilemma, because I have yet to post a pic of myself and wanted to lose some weight before I did, but the pic being posted won out.
I was so excited until Mckmama came home and realized I didn't keep a good eye on her kids.
She really wasn't interested in the pic.
It was at this point, that I woke up.
I woke up...
disappointed.
I remembered Mckmama doesn't live on the island.
She doesn't know me and probably wouldn't ask me to watch the kids.
This all made sense.
But the picture was on my mind
until I realized it was a dream.
Why do I dream about meeting a fellow blogger instead of Reese Witherspoon or some other popular actress?
Probably because I am a mom and I am realistic.
Have you had any dreams lately?