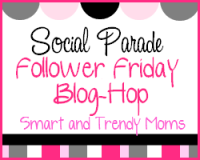 So, I have been trying some new blog hops for the week and it has been fun. I wanted to find something different today and I found the Smart and Trendy Moms.
But.....
I had to ask myself are you smart and trendy? (I got the mom thing already).
I guess I would consider myself smart, although I do tend to have "Mom Brain" sometimes...ya know, when you talk with a friend and then completely forget what you are talking about.
The problem lies within the trendy part today- Do mom jeans count? Yes, my younger and way cooler brother tells me my jeans are "mom jeans". I tell him they do not start out that way. I buy attractive dark denim with "boot cut". The problem occurs when I wash these jeans a lot and they wind up tight and with just a little bit of an arc at my ankles instead of the boot cut. They also seem to take on a not so "cool" denim color that seems to be common among moms. I try, believe me.
The other day I found myself in the library at a program with the kids wearing somewhat slim fitting capri sweats with a slightly oversized tee shirt that fits just in the middle of my backside. I though I would finish the outfit off with some trendy flip flops I had bought at Marshalls 2 years ago. It was working for me at home- but later at the library I caught a glimpse- not pretty!!!!
This was compounded with the fact that we got a super - energized teacher who thought it was fun to blast Gloria Estefan and do hitch kicks while the kids did their art projects. Think
Mario Cantone
from Steampipe Alley. He was so high energy, I could barely make eye contact. And to think I was feeling so guilty about not taking the boys to the library more. I could of listened to "Turn the Beat Around" at home!
But there was definitely some trendy moms with trendy kids with long hair and cool names like, Greyson.
Hey, my kids love me anyway, right?
So, I am not sure about all the rules of a Friday Follow, but if you follow me and leave a comment
today
, I will do the same for you.
Let's be honest, if you leave a comment
any day
on this post and follow me, I will follow you.
I am always checking old posts for comments.
I believe that is called a comment Troll in blogland.
Enjoy today, I am off to my yard sale- pray I make big money - at least enough to have a little extra after I have to buy pizza because there is no time or energy to make dinner tonight!
Happy Friday!
Click on the link above if you want to hop around to some other new blogs!!!
Make sure you are somewhat smart and trendy first, please.
Just kidding!